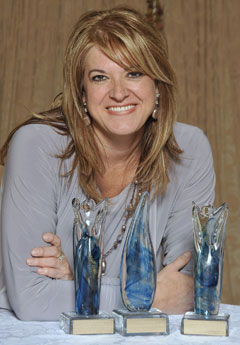 My name is Diana Degan and for the past 10 years, I have been president of Diana Degan & Associates, an award-winning, integrated marketing communications firm dedicated to helping clients, whatever their size and budget, achieve their business goals through the use of effective marketing communications.
With more than 24 years of industry experience, I have strategically developed and executed programs, large and small, for 100+ clients including: singer Beyonce, celebrity Diddy, Catelli Smart Pasta and Minute Rice, Purex Laundry Detergent, Cadbury Adams and Kraft.
My campaigns have won 29 industry awards for special events, media relations, social responsibility, writing and marketing communications, including 18 in the last 4 years alone. I was named 2010 and 2009 Independent-Small Agency of the Year and 2008 Independent/Freelancer of the Year by an industry association, IABC Toronto. I was recently accepted into the Cambridge Who's Who.
And one sunny June morning, my life as I knew it changed forever.
I was thrown headfirst into the details of a divorce. I spent five hours pulling together the information for my first meeting with my lawyer. And untold hours after that pulling all the details together over the 14 months it took to go from beginning to end of my divorce process. I learned as I went. And then friends asked me to help them. And I learned even more. And I realized that I'm good at pulling this information together and sorting through what's needed… all the divorce details. And I realized that for many people, this was a very trying time to have to deal with all these details. And Divorce Details was born.
As one friend said, talk about finding the silver lining in your divorce! Now, I want to share what I've learned and help others sort through the details of their situation. I've developed relationships with people I trust because so many things get thrown at you at the same time, and all when you are least able to take on dealing with even more. Appraisers, real estate people, financial advisors, a really good lawyer…so many skills and services are needed through a divorce.
I landed on an old proverb as I was going through my divorce: Just when the caterpillar thought the world was ending, he became a butterfly.  It became my mantra. It summed up for me what I was going through and helped me to emerge on the other side of my divorce stronger. Today I share it with you. It's true that your life as you currently know it is changing and coming to an end, but embrace the door that is opening in your life, and know that there are other opportunities on the other side.  I would be honoured to help you on your journey.
-Diana Degan